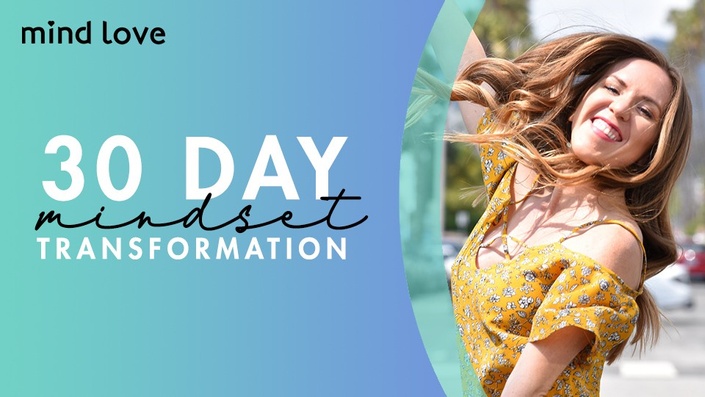 30 Day Mindset Transformation
Transform Negative Thoughts and Build New Thought Habits in 30 Days - Starts again July 1!
Wish you felt happier... everyday?
Is it hard to ride out life's ups and downs, while maintaining a positive outlook? Do you wish you had the support and guidance to master your emotions, so you could feel more optimistic every day?
Do you struggle to overcome negative thought patterns, cycles of destructive behavior, or belief systems that hold you back?
Are you searching for your purpose, looking for your "why", and yearning to find a calling that you're passionate about?
Do you experience roller coaster emotions, and wish you could maintain a sense of stability - even when things get tough?
Have you been looking for a way to reframe your thinking, so you can see life from a new and brighter perspective?
Want to make more meaningful and positive connections at home, with your friends, and in the workplace?
Or, do you simply want to feel better and more energized every single day?
If any of these sound familiar, you're in the right place. In this game-changing course, you'll learn real, proven strategies that help you reinvent the way you see the world, re-energize your body, and open up life's unlimited possibilities.
Sign up today to discover a deep sense of purpose, a vibrant feeling of wellbeing, and get in touch with your healthier, happier self.
Katie and Jennifer felt a change just days into the course!

Why should I sign up for this happiness course?
Did you know that happier people are more successful, productive, creative, resilient, kind, energetic, healthy, and… that they have been found to have better and more satisfying relationships?
In fact, happiness not only improves the quality of your life, happiness has actually been found to extend your lifespan.
Yes, we all want to be happy. As you probably have found, that's a lot easier said than done. The thing is, achieving happiness takes a powerful mix of action and intention.
And that's what you'll get through this course.
Finally, you'll have the support you need to actively pursue your personal happiness, the tools to see the world through a brighter lens, and the knowledge to help you achieve the life you've always dreamed about.
Even better, you'll have a teacher who believes in you and your potential. This way, you can overcome roadblocks, commit to your purpose, and find your true sense of wellbeing.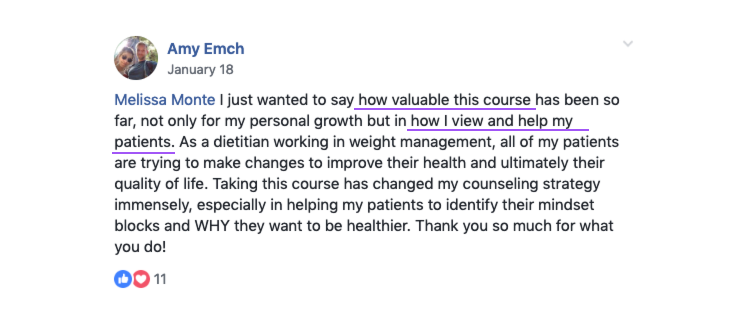 So, How Does it Work?
The 30-day mindset transformation course blends science-based happiness techniques and fun, empowering learning sessions.
Prime Your Mind
We'll begin by laying the groundwork for the incredible power of happiness.
Ignite Your Purpose
You get fun, hands-on practices that help you define and hone in on what makes you tick.
Reframe Your Thinking
Reinvent the way you see your past, and reshape what you expect from the future.
Make Meaningful Connections
Practice making and nurturing healthy, impactful, rewarding relationships.
Celebrate Your Success
Reflect on all that we have achieved throughout the course, and celebrate your success.
Just what do I get from this course?
This exciting journey of personal development will help you become more conscious, calm, joyful, healthy, and of course, happy. Most importantly, it will get your life moving forward with an unstoppable positive momentum.
You get:
Game-Changing Exercises: hands-on activities that create real change in your life, so you can quickly benefit from your happiness practice.
Scientific Knowledge: proven research that helps you understand how you tick, so you can move forward empowered and invigorated.
Transformative Tools: that help you find greater satisfaction at home, at work, with your friends, and in your community.
A Sense of Unlimited Potential: the feeling of new doors opening up in your life that lead to brighter, better, and more rewarding experiences.
Sustainable Wellbeing: the skills to not only feel great now, but to experience a long-term happiness that rides you through even the toughest times.
An Inspiring Teacher: Melissa Monte, host of the Mind Love podcast, invests in your potential and helps you skyrocket to the next level.
Personal Power: at last, you won't depend on outside factors to affect your emotional wellbeing. Instead, you will have the power to cultivate and sustain your own happiness.
When you commit to doing the work laid out in this course, you will boost your life satisfaction, experience a deeper sense of gratitude, and finally, feel truly excited to get out of bed again.

Your Instructor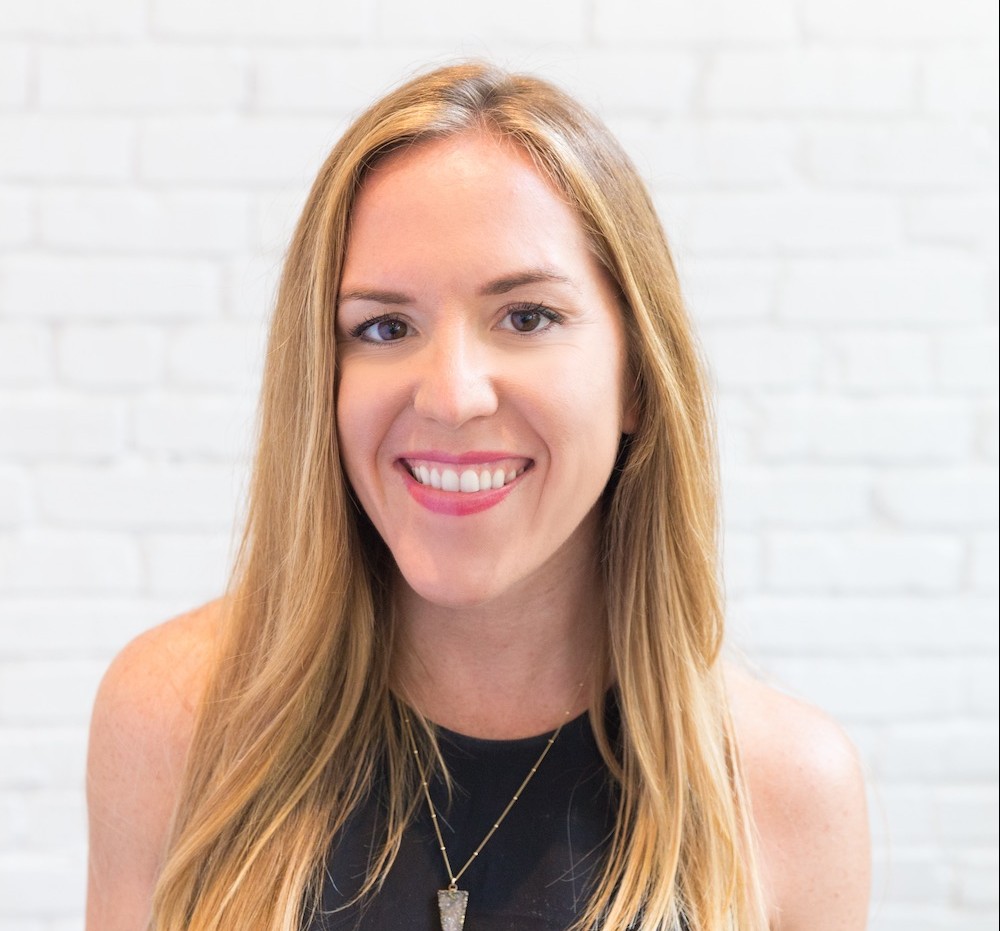 Melissa Monte is the host of the popular podcast "Mind Love". Through raw stories, personal experience and inspiring interviews, Mind Love highlights the incredible role of the mind in happiness, health and success.
As an entrepreneur, yogi, former corporate VP and self-proclaimed seeker, Melissa has spent the last 16 years exploring methods of improving the human condition and learning what makes us humans tick.
Now, it's your time to thrive!
There is one, incredibly important person in your life… you. You deserve to feel outstanding every day, you deserve to have positive relationships that make your world bigger, you deserve the resources to achieve your goals, and you deserve wellbeing that brightens every area of your life; from your profession to your family, your friendships to your feeling of belonging in your community.
Now is your chance to experience that sense of possibility. Sign up today to live the life that you have always deserved.

Course Curriculum
START HERE!
Available in days
days after you enroll
PRE-LAUNCH BONUS!
Available in days
days after you enroll
Week 1: Prime Your Mind
Available in days
days after you enroll
Frequently Asked Questions
When does the course start and finish?
The course starts April 1 and ends April 30. You can follow along with the group or take it completely self-paced where you decide when you start and when you finish.
What if I am unhappy with the course?
We would never want you to be unhappy! If you are unsatisfied with your purchase, contact us in the first 10 days and we will give you a full refund.
I struggle with negative thoughts, but it's not like anything traumatic has happened to me. Is this course even right for me?
Whether you've been hit hard in life, or just find it difficult to tame the beast that is your mind, this course is the perfect choice! Each week we focus on one of the four core areas that most affect your happiness. In week one, we overcome your mindset blocks and prime your mind for positive change. Then, you're guided through exercises in an evidence-based approach to help you empower you to live the rewarding life you deserve.
Will there be any additional guidance, or am I on my own?
Yaas queen! There will be tons of personal guidance from me, Melissa Monte. I'll be providing personalized feedback, actionable tips, and valuable tools to help make this journey memorable, effective, and yes, fun!*
I can't change my social circle, and I don't necessarily want to leave my friends, my job, or my spouse. Does this mean I'm doomed?
*Absolutely not! There are a lot of things in life we can't change. Sometimes we don't want to completely abandon our lives, or leave someone that we love - even if they don't see the world through the same, positive lens that we know is out there.* *In these cases, it's important to find a tribe of like-minded people to supplement your everyday life. And that's one of the great things about this 30 day journey. You will take the course alongside other people committed to themselves; people who have actively decided to make an active change in their lives. And of course, positive energy is contagious.* *The first step to influencing those you love in your everyday life, is starting with yourself.*
How long will I have access to the course?**
You will have full, lifetime access to the course. In addition, you will also get lifetime access to the Mind Love tribe, as well as ongoing group coaching in the future. I highly recommend getting access to the course now, so you can secure it at the lowest price point, and also benefit from some of the amazing, limited-time only bonuses. The course will fill fast, and rates will go up. Also, since this is the first time I'm launching this course, your feedback will play a huge role in the way I shape the course in the future. You will have access to this first version - and then lifetime access to any future version I release! I'll also be adding some surprise bonuses as we go :-) shhhh
Is there a money-back guarantee?
Absolutely! If, after 30 days, you're not happy with your purchase, I'm offering a full refund, no questions asked. I've removed all of the risk for you.
Are you offering any bonuses to go along with the course?
You bet I am. You'll get tons of surprise bonuses and opportunities (the big secret: the earlier you enroll the better the bonuses - they are limited!) In addition to these, I want to be as hands on as possible, so this first launch group will be treated extra special. I have quite a few surprises up my sleeve. 😊
What's the time commitment?
To get the most out of the course, expect to spend around 10-20 minutes per day dedicated to yourself! I suggest indulging in this self-reflective time first thing in the morning and building this daily habit as part of your morning routine.